Data for land decisions
New land, soil and crop (LSC) information services in East Africa
Key features of LSC Data Hubs
National-level data hub
In Ethiopia, Kenya and Rwanda, land, soil and crop data from many sources are being consolidated into data portals, or hubs, where these data can be stored, processed and visualized.
Technology-driven decision tools
LSC Hubs take advantage of the latest data technology so that people who need knowledge about land, soil and crops have the best information possible. These hubs support agricultural decision-making and innovation.
Improved accessibility to agricultural data
A land soil and crop data hub links existing data sources and portals to facilitate easier access while maintaining national data ownership.
Information for climate-smart agriculture
These data hubs support diverse practices which help the agricultural sector adapt and build resilience to climate change. The hubs account for changing environmental conditions and facilitate relevant climate change mitigation.
Land, Soil and Crop Information Services to support Climate-Smart Agriculture
The objective of this project is to develop sustainable land, soil, crop information hubs in national agricultural research organizations in East Africa to enhance the effectiveness of national Agricultural Knowledge and Innovation Systems (AKIS) and contribute to rural transformation and climate-smart agriculture.
The consortium is comprised of three international partners and three national implementing partners in East Africa:
ISRIC - World Soil Information
Wageningen University & Research
International Livestock Research Institute (ILRI)
Ethiopian Institute of Agricultural Research (EIAR)
Kenya Agriculture and Livestock Research Organisation (KALRO)
Rwanda Agriculture and Animal Resources Development Board (RAB)
This four-year project (2021-2024) is jointly funded by the European Union's Development Smart Innovation through Research in Agriculture (DeSIRA) program, The Netherlands' Ministry of Foreign Affairs and a contribution from ISRIC. Read more about the project's theory of change on the DeSIRA website and about the project framework on the ISRIC website.
The project team
Wageningen University & Research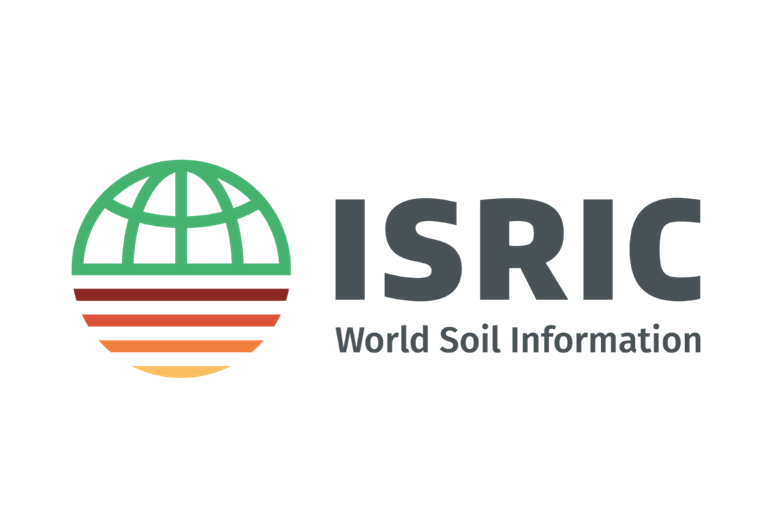 ISRIC - World Soil Information
International Livestock Research Institute (ILRI)
Ethiopian Institute of Agricultural Research (EIAR)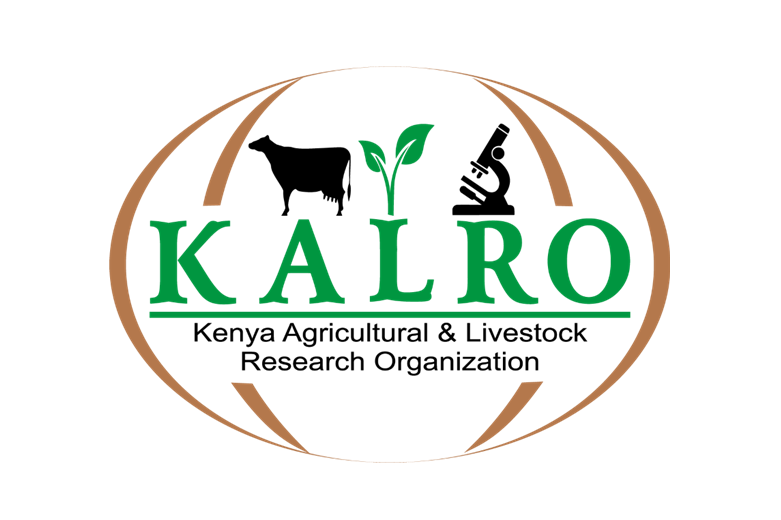 Kenya Agricultural & Livestock Research Organization (KALRO)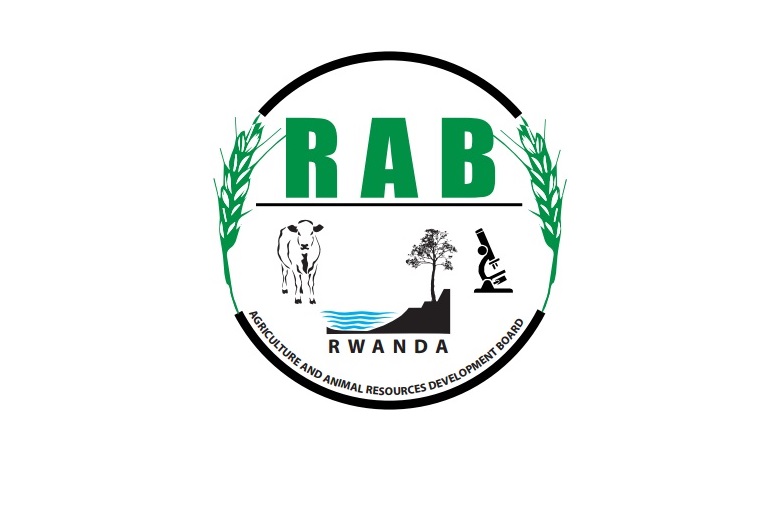 Rwanda Agriculture and Animal Resources Development Board (RAB)
Partners
International Union for Conservation of Nature (IUCN)
Deutsches Zentrum für Luft- und Raumfahrt (DLR)
Association for Strengthening Agricultural Research in Eastern and Central Africa (ASARECA)
World Agroforestry (ICRAF)
Focus countries
The expected impact of this LSC-IS initiative is a contribution to an increased agricultural productivity and farm income especially for small scale farmers in Ethiopia, Kenya, and Rwanda.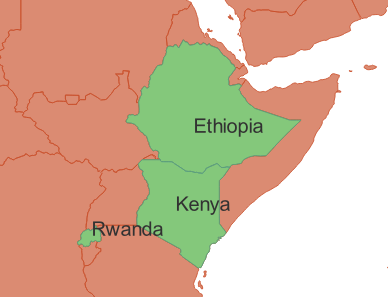 Dashboard: Keeping you updated about project progress
May 8, 2023
ASARECA Agricultural Ministerial Conference
A delegation from the Land Soil Crop Hubs project will present at the ASARECA Agriculture Ministerial Conference in Uganda from 17-19 May, 2023. Read more
March 23, 2023
Datasets collected
240+
We compiled more than 240 available land, soil, and crop information sources for each project country: Ethiopia, Kenya and Rwanda. This data consists of national and global spatial vector data (point, line, polygon), gridded maps and related metadata, and is collected from various sources:
Country project partners (EIAR, KALRO and RAB);
ISRIC – World Soil Information;
Project partners (e.g. ICRAF and IUCN);
Third parties (online sources).
March 23, 2023
Metadata inventory
LSC-hubs developed a process to enable project partners to describe their data's metadata systematically. The process includes:
An inventory metadata template in Excel or
An Open Data Kit (ODK) form;
By standardizing the metadata collection for the data which will eventually feature in the Land Soil Crop Hub (LSC Hub), the metadata can be seamlessly uploaded to the LSC Hubs.
January 31, 2023
ETHIOPIA: National stakeholder workshop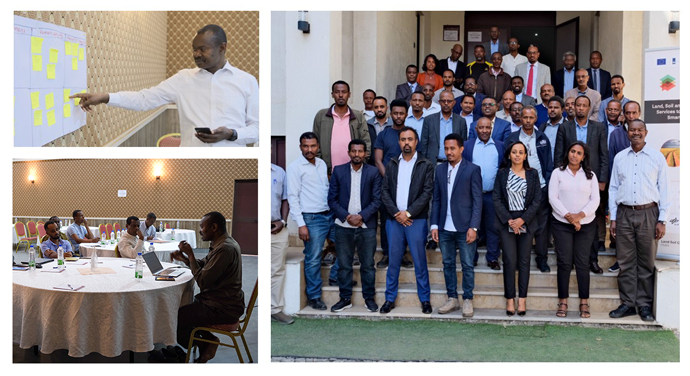 Date: 23-31 January 2023
Participants: 60
Policymakers and agricultural experts highlighted the urgent need to expand data-driven decisionmaking, to help Ethiopian agriculture cater to the country's food and nutrition needs amid climate change and land degradation. Read more
January 31, 2023
ETHIOPIA: Regional stakeholder workshops
In January 2023, two regional level workshops were organised in Ethiopia, in:
Batu (Ziway) and
Basona Werena
January 17, 2023
KENYA: Assessing technical capacity with KALRO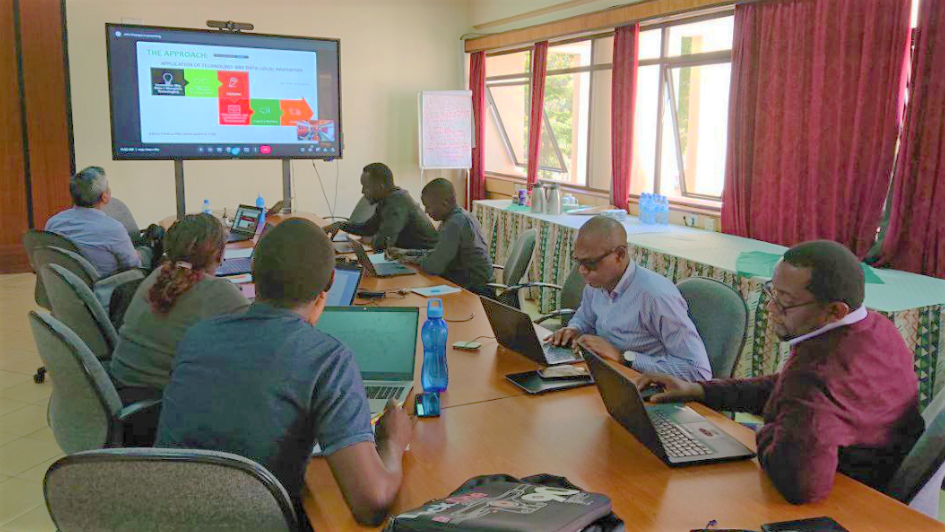 ISRIC and KALRO met from 17-20 January 2023 in Nairobi to:
assess technical capacity (human, software, hardware) to operate, maintain and use the hub;
understand current portals/apps/tools developed by KALRO that support agricultural decision-making;
initiate discussions about the architectural design for Kenya's LSC Hub.
The technical capacity assessment showed that the KALRO IT team is a good team with highly diverse skills.
ETHIOPIA: Regions of focus The two pilot regions for LSC Hubs in Ethiopia are Basona Worena and Adami Tulu Jido Kombolcha.
March 20, 2023
KENYA: Hub architectural design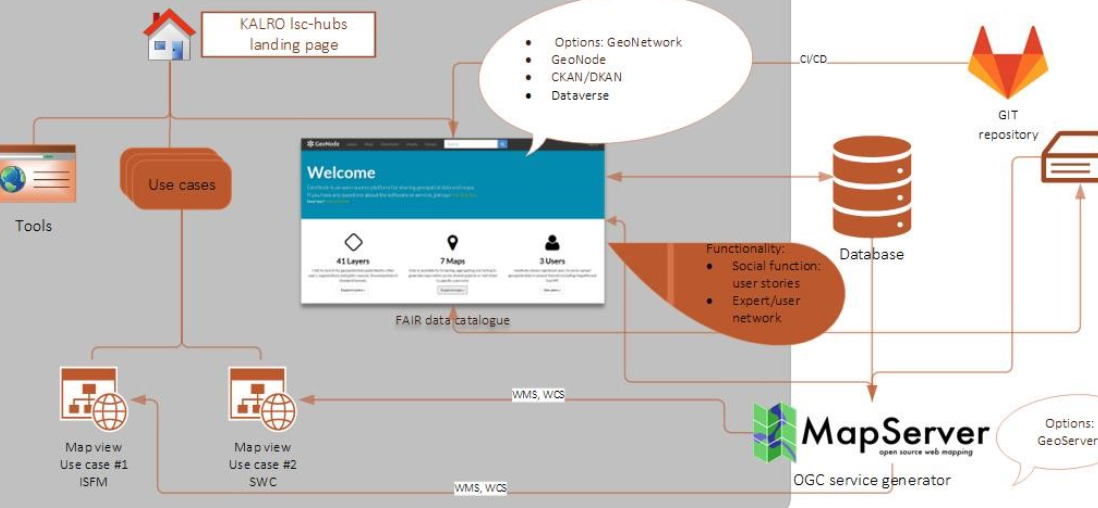 During the January 2023 meeting of the KALRO and ISRIC teams, a draft plan was created that focuses on catalogue service. Catalogue service is the main element of an LSC Hub that provides FAIR data management functionality to the land, soil and crop datasets available at KALRO.
November 1, 2022
RWANDA: National and regional stakeholder workshops
A series of consultation workshops was held in Rwanda at national and regional levels during November 2022. They served to identify the needs and demands among stakeholders in the country with regards to land, soil and crop information. Read more
RWANDA: Regions of focus The two districts of focus in Rwanda for piloting the information services are:
KENYA: Improved data availability and access is essential!
Elizabeth Okosa, KALRO (Picture by ASARECA)
"Most of the data used to understand and improve agricultural practices is static, heterogeneous, and not timely hence, difficult for farmers to apply it to improve their agricultural practices". (Elizabeth Okosa, KALRO). This project works with the conviction that land, soil and crop information services can help to improve the efficacy of CSA related policies, plans and practices.
KENYA: Counties of focus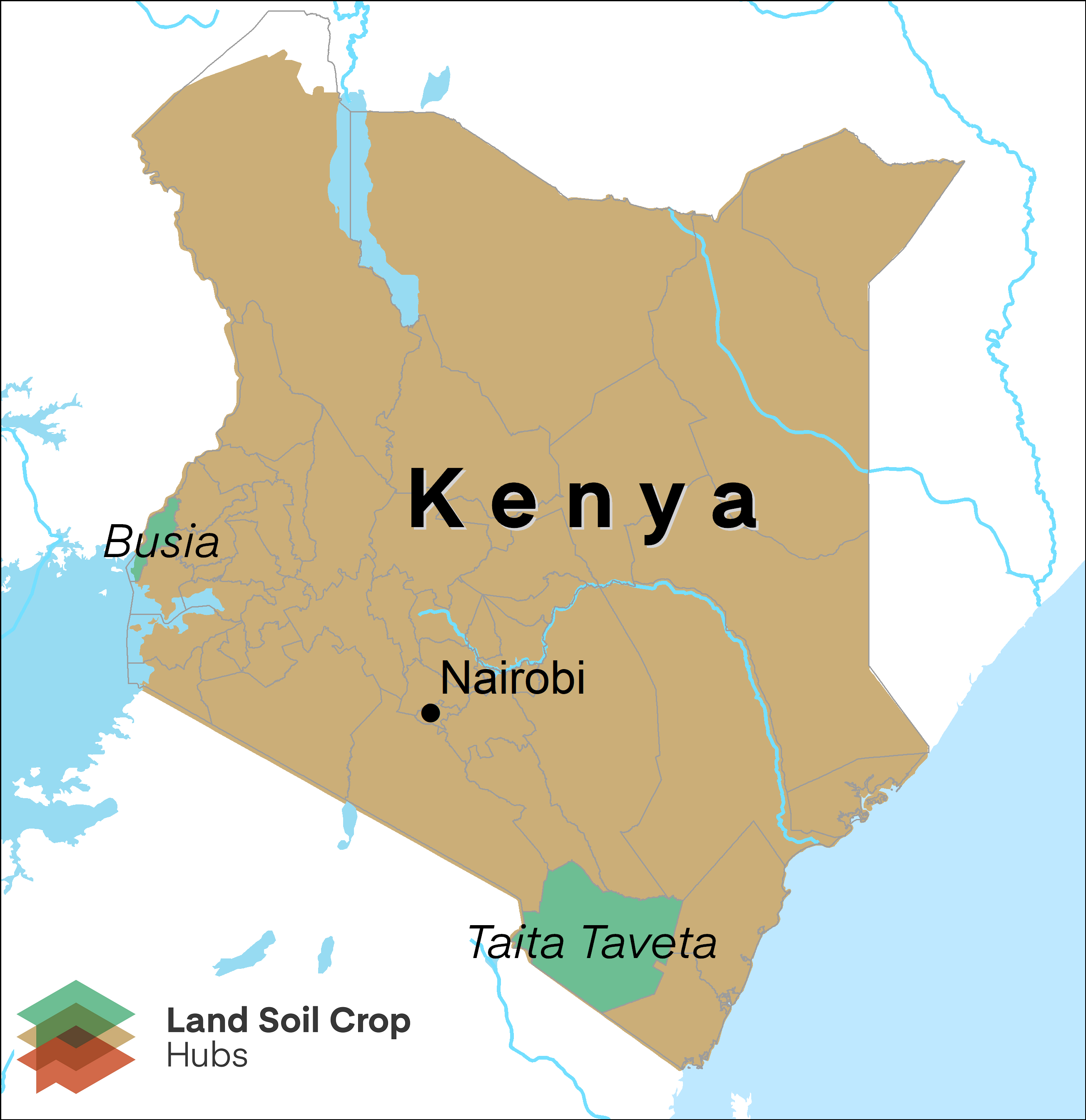 Based on the criteria presented below, two-counties were chosen i.e. Busia and Taita Taveta. The selection of pilot counties in Kenya has been based on: 1. Representation of various agro-ecological zones; 2. GDP per-capita that is lower than national average though has potential for agricultural development; 3. Potential for agricultural production. 4. Characterised by diverse farming systems. 5. Climate risk profile available 6. Presence of other projects that can complement and synergise with DeSIRA LCS-IS. 7. Security and ease of project implementation.
KENYA: Food basket for the coastal region
John Mlamba, Director Climate Change and Environment - County Government of Taita-Taveta (picture by ASARECA) says:
"Taita Taveta County (Kenya) was the food basket for the coastal region, which is not the case anymore because of over-cultivation and soil degradation. This project is a great opportunity for us to provide the farmers with sound information on soil to improve our agriculture".
KENYA: Improving soil fertility management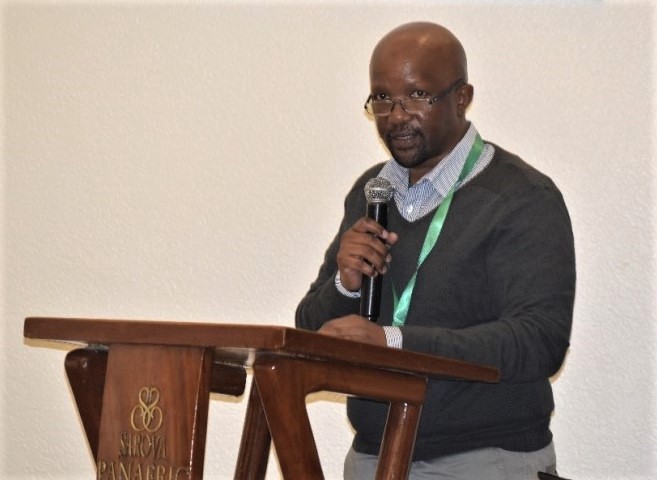 Mr. Stephen Wathome, Agriculture, Job Creation & Resilience Section, Delegation of the European Union to Kenya says:
"Improving soil fertility management and reducing land degradation continues to be a priority for the EU. It is through such programmes as DeSIRA LSC - IS that support is being extended…Generation and appropriate dissemination of Land, Soil and Crop information is crucial for effective decision making and innovation."
September 19, 2022
KENYA: National workshop in Nairobi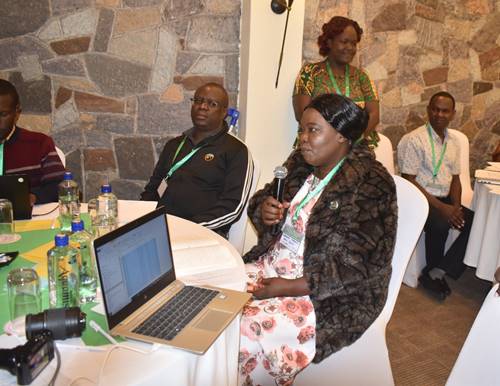 Date: 19-20 September 2022
Participants: 41
Some quotes of the workshop included: "Many different actors and stakeholder group have been part of this workshop with space and time for open conversation - both formally and informally". "We have to unfortunately underline that important data simply do not reach farmers". "If farmers want to obtain data they generally have to pay a -not small- amount in KSh!" Read more
September 27, 2022
KENYA: Workshop in Busia County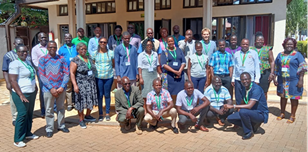 Date: 27-28 September 2022
Participants: 41
The outcome of the two days' stakeholder workshop in Busia County was a set of clearly defined user requirements and needs that guide the design of the LSC-hub in Kenya
October 13, 2022
KENYA: Workshop in Taita-Taveta County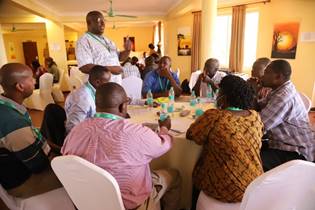 Date: 13-14 October 2022
Participants: 48
The two days' stakeholder workshop in Taita-Taveta County outlined the importance of engaging with county level and engaging local level stakeholders in making their needs regarding data availability and access explicit. "Engaging the end-users in the LSC hub design makes this project different" was mentioned during the evaluation of the workshop.